December 17, 2018

For today's bulletin, we take a look at General Electric $GE and provide a link to download a copy of our latest stock report at the fitness center chain.
VALUATION WATCH: Overvalued stocks now make up 27.92% of our stocks assigned a valuation and 10.06% of those equities are calculated to be overvalued by 20% or more. One sector is calculated to be overvalued.

If you cannot display this bulletin properly, GO HERE

To subscribe to our bulletins and receive content whenever it is published, subscribe at our blog HERE
--No Longer Electric
ValuEngine STRONG SELL GE Gets More Bad Press
General Electric Company (GE) operates as a technology and financial services company. Its segments include Energy Infrastructure, Aviation, Healthcare, Transportation, Home & Business Solutions and GE Capital. The company's Energy Infrastructure segment offers wind turbines; gas and steam turbines and generators. Its Aviation segment offers jet engines, turboprop and turbo shaft engines, aerospace systems and equipment. Its Healthcare segment provides medical imaging and information technologies, medical diagnostics, patient monitoring systems. Its Transportation segment provides drive technology solutions to various industries. Its Home and Business Solutions segment provides home appliances; lighting products, plant automation, hardware, software, and embedded computing systems. Its GE Capital segment offers commercial loans and leases, fleet management, financial programs, credit cards, personal loans and other financial services. General Electric Company is headquartered in Fairfield, Connecticut.
Want to learn more about ValuEngine? Our methods? Our history?
Check out our video presentation HERE.
There are few stories more sad than that of the downfall of General Electric. Once a powerhouse conglomerate with numerous divisions on the cutting edge of important industries--power turbines, jet engines, medical machines such as MRIs, etc., GE now founders along, a shadow of its former self. Late last week the Wall Street Journal published a piece on just how far this firm has fallen.

While today we look at Apple as a market cap leader, that position used to be held by GE. This company had 100s of thousands of employees and its stock was the gem in many portfolios thanks to its outstanding performance and its nice and reliable dividend payments.

But, GE also played in the financial sector via its GE Capital subsidiary. As the WSJ article notes, while GE Capital gave the firm many financial advantages, it also held the key the to the firm's eventual downfall. Huge exposure to financial credit markets was NOT a good thing as the housing crisis and Great Bush Recession took hold in 2008. Investors got spooked about GE in a big way thanks to GE Capital. This subsidiary was so big that it was actually the 7th-largest bank in the US. However, selling off much of this business did not save GE

The firm tried to deal with falling share prices by buying back more shares of stock, but this did not help the company as long-standing powerhouse divisions continued to falter. Changes at the top also failed to arrest the decline. Earnings targets were missed. The stock was dropped from the Dow Jones Industrial Stock Index. And, probably the worst thing from the perspective of many long-term investors, the company cut its dividend in half.

We see yet another sad story here, a once-great American institution in steep decline, and a share price in steep decline as well. As you can see from the chart below, Our models are not hopeful for the company, and we continue to rate it a STRONG SELL.

VALUENGINE RECOMMENDATION: ValuEngine continues its STRONG SELL recommendation on GENL ELECTRIC for 2018-12-14. Based on the information we have gathered and our resulting research, we feel that GENL ELECTRIC has the probability to UNDERPERFORM average market performance for the next year. The company exhibits UNATTRACTIVE Momentum and Sharpe Ratio.

You can download a free copy of our summary report onGeneral Electric Company (GE) from the link below.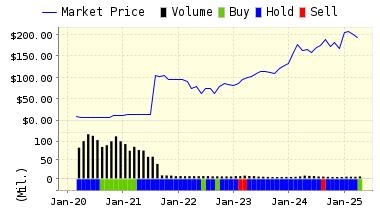 ValuEngine Forecast

Target
Price*

Expected
Return

1-Month

7.02
-1.16%

3-Month

6.93
-2.39%

6-Month

6.63
-6.62%

1-Year

6.11
-13.91%

2-Year

6.75
-4.98%

3-Year

7.03
-1.04%
Valuation & Rankings

Valuation

40.59% undervalued

84

1-M Forecast Return

-1.16%

1-M Forecast Return Rank

4

12-M Return

-59.75%

3

Sharpe Ratio

-1.08

7

5-Y Avg Annual Return

-25.37%

5-Y Avg Annual Rtn Rank

20

Volatility

23.57%

61

Expected EPS Growth

6.19%

33

Market Cap (billions)

71.41

Size Rank

99

Trailing P/E Ratio

10.14

83

Forward P/E Ratio

9.55

Forward P/E Ratio Rank

71

PEG Ratio

1.64

PEG Ratio Rank

26

Price/Sales

0.60

77

Market/Book

1.49

59

Beta

0.88

Beta Rank

46

Alpha

-0.93

Alpha Rank

2
DOWNLOAD A FREE SAMPLE OF OUR GENERAL ELECTRIC (GE) REPORT BY CLICKING HERE
ValuEngine.com is an Independent Research Provider (IRP), producing buy/hold/sell recommendations, target price, and valuations on over 5,000 US and Canadian equities every trading day.
Contact ValuEngine at (321) 325-0519 or support@valuengine.com
Visit www.ValuEngine.com for more information
ValuEngine Capital Management LLC is a Registered Investment Advisory (RIA) firm that trades client accounts using ValuEngine's award-winning stock research.
Contact ValuEngine Capital at info@valuenginecapital.com
Visit www.ValuEngineCapital.com for more information
Steve Hach
Senior Editor
ValuEngine.Com