December 19, 2018
Editor's Note: We will be on a reduced publication schedule for the holidays and holiday travel. We will not publish a newsletter/bulletin on December 24th and 26th, or January 2nd. We will return to our normal publication schedule on January 7th.

For today's bulletin, we take a look at our latest STRONG BUY and BUY upgrades. We also provide a link to download a FREE STOCK REPORT on Deckers Outdoor $DECK, one of our top upgrades for the day.
VALUATION WATCH: Overvalued stocks now make up 23.59% of our stocks assigned a valuation and 8.44% of those equities are calculated to be overvalued by 20% or more. One sector is calculated to be overvalued.

If you cannot display this bulletin properly, GO HERE

To subscribe to our bulletins and receive content whenever it is published, subscribe at our blog HERE
--UPGRADES
Footwear Maker Deckers Outdoor is Upgraded to BUY by ValuEngine
For today's edition of our upgrade list, we used our website's advanced screening functions to search for UPGRADES to BUY or STRONG BUY with complete forecast and valuation data. They are presented by one-month forecast return. There were no STRONG BUY upgrades. Today, every component of our top-five list is a BUY upgrade.
| | | | | | | | | |
| --- | --- | --- | --- | --- | --- | --- | --- | --- |
| TSM | TAIWAN SEMI-ADR | 36.76 | 2.62% | -6.70% | 0.53% | 6.38% | 16.29 | Computer and Technology |
| DECK | DECKERS OUTDOOR | 122 | 3.46% | 58.20% | 0.51% | 6.14% | 17.30 | Consumer Discretionary |
| S | SPRINT CORP | 5.91 | -7.64% | 5.54% | 0.51% | 6.10% | 65.67 | Utilities |
| DRI | DARDEN RESTRNT | 103.85 | 0.20% | 14.70% | 0.51% | 6.07% | 19.37 | Retail-Wholesale |
| DLTR | DOLLAR TREE INC | 85.86 | -0.51% | -21.30% | 0.50% | 6.04% | 15.84 | Retail-Wholesale |
Want to learn more about ValuEngine? Our methods? Our history?
Check out our video presentation HERE

Deckers Outdoor Corporation (DECK) is a global leader in designing, marketing and distributing innovative footwear, apparel and accessories developed for both everyday casual lifestyle use and high performance activities. The Company's portfolio of brands includes UGG, Koolaburra, HOKA ONE ONE, Teva and Sanuk. Deckers Brands products are sold in more than 50 countries and territories through select department and specialty stores, Company-owned and operated retail stores, and select online stores, including Company-owned websites. Deckers Brands has an history of building niche footwear brands into lifestyle market leaders attracting millions of loyal consumers globally.
If you ever wear sport sandals, you are most likely familiar with Deckers Outdoor. They own popular brands such as Teva. If you know a woman of a certain age, they probably wear UGGs, another one of Deckers leading brands. The company is popular with investors and, lately, some hedge funds. DE Shaw, AQR Capital Management, and GLG Partners are some of the players with positions in this stock.

The last results were published at the end of October, and at that time the company posted some decent numbers for Q2 2018. Net sales increased 4.0% to $501.9 million compared to $482.5 million for the same period last year. Gross margin was 50.2% compared to 46.7% for the same period last year. Operating income was $90.4 million compared to $67.4 million for the same period last year. Diluted earnings per share were $2.48 compared to $1.54 for the same period last year. Non-GAAP diluted earnings per share was $2.38 this year compared to $1.54 last year. Decker saw decent growth for HOKA ONE ONE with a sales increase of 28%. Other flagships held steady or suffered slight declines.

The company is due to report Q3 earnings in January. Their current outlook is for Net sales to be in the range of $805.0 million to $825.0 million. Non-GAAP diluted earnings per share are expected to be in the range of $5.10 to $5.25.

For the fiscal year, Net sales are now expected to be in the range of $1.935 billion to $1.960 billion. Gross margin is now expected to be approximately 50%. Non-GAAP diluted earnings per share are now expected to be in the range of $6.65 to $6.85.

ValuEngine updated its recommendation from HOLD to BUY for DECKERS OUTDOOR on 2018-12-18. Based on the information we have gathered and our resulting research, we feel that DECKERS OUTDOOR has the probability to OUTPERFORM average market performance for the next year. The company exhibits ATTRACTIVE Momentum and Company Size.

You can download a free copy of detailed report on Deckers Outdoor Corporation (DECK) from the link below.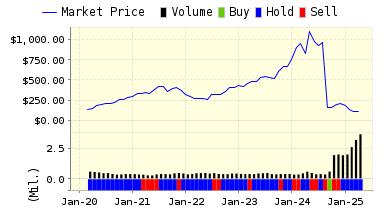 ValuEngine Forecast

Target
Price*

Expected
Return

1-Month

122.62
0.51%

3-Month

123.37
1.13%

6-Month

126.60
3.77%

1-Year

129.49
6.14%

2-Year

133.59
9.50%

3-Year

142.59
16.88%
Valuation & Rankings

Valuation

3.46% overvalued

20

1-M Forecast Return

0.51%

1-M Forecast Return Rank

85

12-M Return

58.19%

97

Sharpe Ratio

0.31

76

5-Y Avg Annual Return

9.55%

5-Y Avg Annual Rtn Rank

81

Volatility

30.98%

50

Expected EPS Growth

3.31%

27

Market Cap (billions)

4.23

Size Rank

81

Trailing P/E Ratio

17.31

58

Forward P/E Ratio

16.75

Forward P/E Ratio Rank

33

PEG Ratio

5.23

PEG Ratio Rank

6

Price/Sales

2.15

41

Market/Book

5.43

22

Beta

0.81

Beta Rank

49

Alpha

0.54

Alpha Rank

96
DOWNLOAD A FREE SAMPLE OF OUR DECKERS OUTDOOR (DECK) REPORT BY CLICKING HERE
ValuEngine.com is an Independent Research Provider (IRP), producing buy/hold/sell recommendations, target price, and valuations on over 5,000 US and Canadian equities every trading day.
Contact ValuEngine at (321) 325-0519 or support@valuengine.com
Visit www.ValuEngine.com for more information
ValuEngine Capital Management LLC is a Registered Investment Advisory (RIA) firm that trades client accounts using ValuEngine's award-winning stock research.
Contact ValuEngine Capital at info@valuenginecapital.com
Visit www.ValuEngineCapital.com for more information
Steve Hach
Senior Editor
ValuEngine.Com