ValuEngine Inc created the VEInstitutional product to deliver the most innovative concepts in financial theory.
Our objective is to provide you with immediate, efficient quantitative tools for analyzing stocks and equity portfolios to create maximum return for minimum risk.

VEInstitutional software gives equity managers the power of our award-winning Stock Valuation Model. This model is the foundation upon which all of VE Institutional's unique valuation, forecasting, and optimization tools are built. This defining solution to stock and portfolio valuation provides professionals with a three-dimensional view of their equity positions and the ability to make consistent, reliable, objective decisions.

ValuEngine Quantitative Modeling
ValuEngine's R&D team has developed sophisticated proprietary valuation and forecasting models to enhance returns. Our research team stays at the forefront of finance research in academia and on Wall Street by translating investment theory into practical financial tools.
Our Stock Valuation Model is the basis for many of our analytical functions. It is unique in its effectiveness and the factors it takes into account. These factors include, but are not limited to:

Firm-specific parameters:
EPS growth volatility

Long-run EPS growth rate

Duration of business-growth cycle

Systematic or beta risk of the firm

Correlation between the firm's EPS and the interest-rate environment
30-yr Treasury yield parameters:
Its long-run level

Interest-rate volatility

Duration of interest-rate cycle
The model provides a fair-value assessment of a stock, indicating whether it is under or over-priced. Extensive back-testing including portfolio formation, has yielded impressive results. Model prices and strategies yielded an average annual return of approximately 40% per year over the past 15 years, surpassing the S&P 500 and other stock market indices by a wide margin.

Stock Valuation
The ValuEngine Stock Valuation Model was derived from the recent research and findings of Dr. Zhiwu Chen, Professor of Finance at Yale University. Our model is more sophisticated than traditional valuation models and outperforms its peers by employing a three-factor approach to stock valuation. Fundamental variables such as a company's trailing 12-month Earnings-Per-Share (EPS), the analyst consensus estimate of the company's future 12-month EPS, and the 30-year Treasury yield are all combined to create a more accurate reflection of a company's fair value.

Stock Forecasting
VEInstitutional applies the most advanced econometric techniques to ensure that our stock forecasts are effective. This quantitative application involves running thousands of simulations to estimate the probability of meeting or exceeding any given investment target.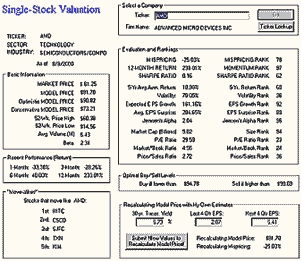 SmartScreening
SmartScreening allows you to utilize favored stocks as criteria in your equity search. For example, if you want to find stocks that have similar momentum to Company XYZ and comparable valuation to Company ABC, SmartScreening will provide you with a list of stocks that have these traits in common.

Portfolio Optimizer
Portfolio Optimizer utilizes our stock valuation and forecasting models to examine tens of thousands of possible capital allocation plans distributed across the stocks of your choice. From the results of these simulations, Portfolio Optimizer will identify and display the most favorable stock allocation for your portfolio.

The VE Institutional Advantage
VEInstitutional provides investment professionals the most innovative valuation, forecasting and portfolio optimization tools available. Our clients enjoy knowing that their decisions are backed-up by extensive third party research and analysis.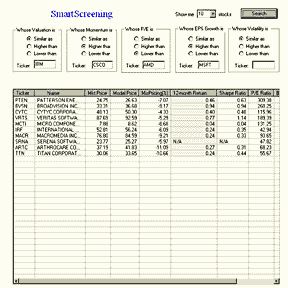 Dr. Zhiwu Chen, Professor of Finance at Yale University, leads The ValuEngine Research Team. The team's primary mission is to develop, test, and launch the most sophisticated, accurate and accessible valuation, forecasting, and portfolio advisory products. VEInstitutional software is the product of some of the finest minds in finance today.

As a VE Institutional client, you can put those minds to work for you.
Frequent back-testing by the research team ensures the reliability of VEInstitutional's valuation, forecasting, and portfolio optimization technologies. Product Upgrades provide the latest financial and technological breakthroughs in modeling analysis from the ValuEngine research team. VE Customer Care provides VEInstitutional clients with full support, handling both technical and general inquiries.
Click HERE to see screenshots from VEInstitutional